Expert fragrance flower growers and perfumers answer the question; Which is the best rose perfume? A guide how to pick the best perfume for a loved one.
With fragrance expert, Petrus Persoon, we take a dive into perfume making and answer the questions; What is the best floral perfume? What are classic floral perfumes? What are the longest lasting perfumes? What are the strongest perfumes? What are natural fragrances? With fun facts, tips and a user poll.
1. Which is the best floral perfume?
Which perfume is the best women's perfume? By sales figures Chanel No.5, while our best selling perfume of this year is Natural Fragrance Taif Rose.
There is nothing so personal as fragrances. One loves, another hates. The best perfumes for women unsurprisingly have flowers as basic notes. And the most popular floral fragrance on the pallet of perfumers are Rose, Jasmine, Violet, Gardenia, Freesia, Lavender.
There are also fragrances like Peonia or other flowers purely made up for marketing purposes with the fragrance components synthetically created in labs.
Quite honestly, most fragrance houses use natural floral scent oils in their creative process, while producing their fragrances with synthetics. More on the practicality of that later in this blog.
1.1 What is the best rose perfume?
The purest and best rose perfume is Natural Fragrance Taif Rose. Did you know that the popular perfumes of brands like Chanel, Dior and Givenchy all have rose as its basic fragrance note?
Did you know that Coco Chanel, Christian Dior, count Humbert Givenchy and other famous fragrance brand founders all were fashion designers who hired a chemist, a perfumer, to compose their perfumes. Natural Fragrance Co. grows taif rose, and their perfumers and growers live and breath fragrance.
The famous Chanel No.5 was the fifth sample Coco Chanel chose out of nine samples the chemist Ernest Beaux had created. It is a master composition of 80 fragrances with rose at its core, although it is deliberately not marketed as a rose perfume.
1.1.1 Taif Rose
While there are many fragrant rose varieties, it is a damask hybrid, taif rose, which is for centuries used in perfume making. Originating from Taif on the Arabian peninsula and around the 17th century taken to the gardens of French perfumers.
Natural Fragrance Co. grows taif rose, and their perfumers and growers live and breath fragrance. In fact, Natural Fragrance's most popular fragrance flowers are Taif roses, a bestseller flower delivery item is Taif Rose hydrated to last 4 months.
1.2 Rose perfume for ladies
Rose is the most used ingredient in perfumes for women. But there are many different rose scents. Perfumers mostly use extracts of damask or centifolia hybrid roses.
But why is rose, the queen of flowers, for centuries so commonly used in perfumes? Because of rose's versatility, its ability to blend perfectly with other florals, woods and citrus notes.
Rose extracts are made up of hundreds of compounds, which explains why its scent is so rich and multi-facetted. Rose is almost a perfume by itself. Its extracts can have scents ranging from zesty, citrusy notes to green, fruity, peach, plum, spicy, amber and sweet aromas, all within one rose!
By adding top notes of other fragrances, it is as if the whole composition suddenly takes a different turn and brings out another facet of the rose's fragrance.
1.2.1 Top 10 pink rose perfumes with price
Because we love pink, a top 10 female perfumes with price.
Francis, already a master perfumer at a young age, composed this eloquent bouquet of roses with top notes litchi and pear strong notes of damask rose, and grasse rose, peony and violet and a musk base note.
The purest rose perfume harvested from fields of fragrance flowers. This traditionally made high end perfume comes with its basic note, a Taif Rose hydrated to last 4 months. An extraordinary silky fragrance with lots of the damask taif rose at its centre and peach, apricot, zest and a velvety base of white musk. All notes that accentuate the best of the rose essence.
Inspired by Tom Ford's own rose garden. Juicy, flowery and full bodied with sichuan pepper and middle notes of may rose, bulgarian rose and turkish rose; with base notes of patchouli and tonka bean.
Eloquent, luminous, juicy, with Acqua di Parma´s signature of bergamot and mandarin. Illuminating the floral rose heart with spiced hints of black pepper, notes of diverse citruses, enriching the composition with lily of the valley and velvety violet.
With the distinguished character of bulgarian rose and some essences of anise and mandarin in the top notes it has a floral heart of rose and hint of lily and rest on a subtle woody base with musk and cedar accentuating the rose.
This new fragrance was launched in 2020. The top notes are geranium, italian Mandarin and bergamot with middle notes are grasse rose and damask tiaf rose and a base note white musk to emphasize the versatility of rose.
A perfume oil, you don´t spray it, you apply the fragrance in a purer form directly on your skin. Turkish rose is one of the freshest takes on rose perfumes. It is a surprisingly basic rose fragrance with a top note of plum blossom rose ,a middle note of a turkish hybrid rose oil on a base note of white woods.
Seductive, expressive, with a distinctive oriental aroma. Rose Goldea opens with pomegranate at the top composition, as the fragrance develops, the emphasis is on the damascus rose absolute and a jasmine grandiflorum, supported by musk, creamy sandalwood and olibanum.
Eau de Cologne is a much more diluted perfume even than Eau de Toilette. Still, this is a remarkable and surprising perfume, while you would expect a warm scent from red roses this is a lovely fresh perfume. It has top notes of lemon and mint; middle notes of bulgarian rose and violet leaves and a base note of beeswax.
Tom Ford loves roses. Since this is a top 10 in uniqueness and scent and not so much as affordability, I like to end with another personal favorite. As basically all scents of Tom, Unisex. Damask rose with saffron, black pepper, dark coffee, amber and wood.
1.3 Rose perfume for men
Yes, rose is also an ingredient in perfumes for men. Although not as common and dominant as in women's perfumes. There are marketing reasons for not highlighting these ingredients. I will give you the two most popular rose perfumes for men.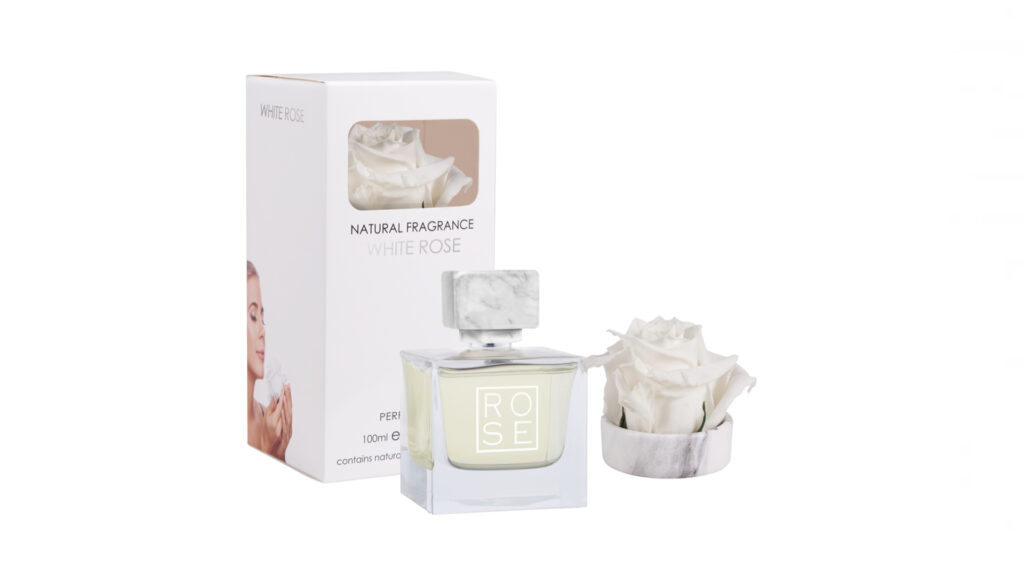 Natural Fragrance for men and women. A unique fleshy green warm earthy odor with a dreamy rosy opening. Top notes are litchi, black currant and damask taif rose; middle notes are white rose, hints of geranium and jasmine and a base notes of white musk and virginia cedar to bring out the best of the white roses. This perfume comes with its natural grown fragrant white rose, hydrated to last 4 months.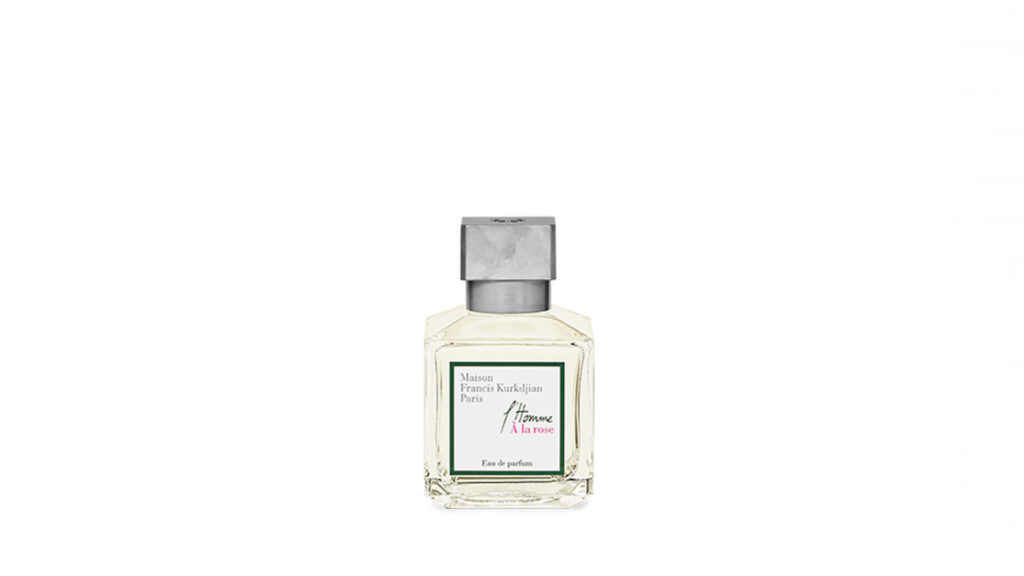 Floral Woody Musk fragrance for men. While technically a men's fragrance, lovers of all genders will fall for this perfumes notes of damask and centifolia roses, grapefruit and its touch of sage and woody depth from the deep amber wood accords.
2. Which is the best floral perfume?
The best floral perfume depends on one's personal taste. After having ranked some exclusive rose perfumes, I like to offer a guide to choose your floral perfumes.
Let me give you 4 recognizable classics, each representing a scent category. Pick your fav classic and scroll down to its category where you find 4 popular floral perfumes of 2022 of that category which match your taste.
2.1 The classic perfumes
2.2. Best floral perfumes 2022
2.2.1 The most creamy floral perfume 2022
You love the YSL Opium perfume, then one of these 4 creamy floral perfumes would be your choice.
A creamy warm sweet floral perfume, with top notes of jasmine, orange blossom and peach; middle notes of jasmine sambac, tuberose and rose. Base notes of musk, praline, orange blossom, sandalwood and iris. A master piece of a master perfumer.
Creamy floral perfume : Jo Malone founded Jo Loves after she sold her brand Jo Malone to Estée Lauder. A warm intense creation with twists, combining notes of gardenia petals, suede cardamom, elemi and grey woods.
A creamy floral perfume is an aromatic fragrance for women and men. This is a new fragrance launched in 2020. Creamy yet with top notes of surprizingly cucumber, juniper berries and lime and a middle note of a deep damask rose with base notes of musk and sandalwood to ground the rose.
Creamy floral perfume : More flowery than its original, Opium. A warm spicy fragrance with white flowers, vanilla, dominant notes of coffee and additional accords of pink pepper, orange blossom, jasmine, vanilla, patchouli and cedar.
2.2.2 The best soft floral fragrances 2022
You love the classic Chanel No.5, then one of these 4 soft floral fragrances would be your choice.
Stroll the blooming fields of flowers yourself. An extraordinary silky fragrance with lots of the damask taif rose at its centre and peach, apricot, zest and a velvety base of white musk. All notes that accentuate the best of the rose essence. This traditionally made high end perfume comes with its basic note, a Taif Rose hydrated to last 4 months.
Soft floral fragrance : Playful, soft and a bit fruity this new perfume was created for Marc Jacobs by the fragrance and flavor mogul IFF. Its top notes are rhubarb and narcissus; it soft middle note is almond milk and base notes are cashmeran and cedar.
Miss Dior has experienced many reincarnations. This newest Miss Dior is still based on the note of rose with honey and peppery notes. and an extremely creamy velvety heart because of the rose, fresh lily of the valley and powdery notes of iris. The base has woody, earthy and vanilla aromas. This latest 2021 version is a little more spicy with fruity aromas of apricot and peach.
A soft floral fragrance composed with white floral , tuberose at its heart. Top notes are sea water, gardenia and pink pepper with middle notes of indian tuberose, jasmine sambac and ginger, some base notes that smell of coconut, almond Milk and olibanum.
2.2.3 Best fruity floral fragrances 2022
When the classic master piece Guerlain Shalimar is a favorite of yours, then check out these 4 fruity floral fragrances.
Fruity floral fragrance : Coach is not a fragrance house. The perfumers of Givaudan, the Swiss mass fragrance manufacturer, outdid themselves, we rank it above the masters of Givenchy. A perfume that opens with a composition of bitter orange and juicy pear. Its heart reveals gardenias and cactus flowers, followed by joshua tree and ambroxan in the base.
Fruity floral fragrance : Jasmine at its core, an aromatic fruity fragrance for women and men, green, floral, fruity and woody.
Fruity floral fragrance : A cologne, thus more diluted and wears of faster, yet this new fragrance. Moonlit Camomile was launched in 2022. Its top note is moon flower, hench its name with middle note of chamomile and a base note of white musk.
Fruity floral fragrance : Lancôme tinkered some with their classic La Vie Est Belle, normally not a good sign. But in this case it is out preforming its original. The fragrance is fruity with raspberry and floral with rose.
2.2.4 Best white floral perfume 2022
Are you a fan of Calvin Klein CK One, then these 4 white floral perfumes will be of your taste.
1. Natural Fragrance – White Rose – Eau de Parfum 3.4 Fl Oz $ 134
A unique fleshy green warm earthy odor with a dreamy rosy opening. Top notes are litchi, black currant and damask taif rose; middle notes are white rose, hints of geranium and jasmine and a base notes of white musk and virginia cedar to bring out the best of the white roses. This perfume comes with its natural grown fragrant white rose, hydrated to last 4 months.
White floral perfume a bit woody musky fragrance for women and men. The nose behind this fragrance is again the mass manufacturer Givaudan. Top notes are litchi and fenugree, its middle notes is Rose de Mai and labdanum with base notes are of synthetic oakmoss, patchouli and musk to carry the rose.
Floral Woody Musk fragrance for men. While technically a men's fragrance, lovers of all genders will fall for this perfumes notes of damask and centifolia roses, grapefruit and its touch of sage and woody depth from the deep amber wood accords.
A white floral perfume of white rose, rose , rose with top notes are litchi, black currant and bergamo and middle notes of white flowers geranium and jasmine and base notes are musk bringing out rose to its full potential , with some hints of white honey and virginia cedar.
2.3. The best floral perfumes for her
If we haven´t answered you question in the article above we have here an interesting article in Vogue : The 28 best perfumes for women come with a story.
3. What are the longest lasting perfumes?
The longest lasting perfumes are those with the highest concentration of fragrance oils and the most potent and durable fragrance oils.
3.1 Which perfume lasts the longest?
I often get the question: what is the long lasting perfume for women? Allow me first to answer the question: What makes a perfume last?
It all has to do with slow evaporation. Perfumes are basically scent oils plus alcohol. The more scent oil the longer the perfume can last.
It is therefore that Natural Fragrance only sells Parfum and not the more diluted forms as Eau de Toilette and Eau de Cologne.
Specific ingredients and the manner in which you use the perfume make perfumes long lasting. A greasier skin slows evaporation. A drier skin can counter that with a skin care cream.
The ingredients oakmoss and vetiver are some of the long lasting base notes. These fragrances slowly evaporate in comparison to other fragrances. So you will smell them even many hours after the fading of heart and top notes. Oakmoss as natural fragrance is no longer in use.
A perfumer attempts to make compositions with equal evaporation times so your perfume does not change its scent in the hours you wear it. A complicating factor in traditional natural fragrances over the commonly sold synthetic compositions.
3.2 Tips to make your perfume last longer
Shower or bath and dry your skin. It removes other odors and your skin absorbs perfume better when it's warm and your pores are open. A hot shower or bath will do the trick. Make sure to dry your skin before applying the perfume, otherwise it it evaporates quicker with the water.
Moisturize your skin. Apply an unscented body lotion or a little vaseline on pulse points. Perfume will evaporate quickly on dry skin. Make sure your skin is soft and hydrated before applying perfume, so the perfume can lock onto your skin.
Apply first perfume, then clothes. Spray on your perfume before putting on your clothes. It allows you to reach all pulse points you want to apply your perfume on, and it avoids possible stains on your clothes
Apply perfume on pulse points. The best spots to apply perfume are your pulse points: the points that are warm because your veins are closest to the skin on those places. Where you apply a perfume will have an impact on how you and others experience it.

I. If your goal is to smell the perfume yourself, apply it to the pulse points, neck, chin and collarbones. Spraying your wrists and inner elbows allows quick whiff whenever you feel like it.
II. Smelling good for your beloved, then apply on your chest, shoulder blades, below and on top of your ears, and why not, your belly button.
III. When you like to own the room and leave a scent trail, apply on the back of your neck and the inside of your knees.
Do not rub! Just spray. Although somehow we are all tempted to do it. Applying perfume on the wrist and rubbing it with the other wrist seems like a reflex. Un-reflex yourself! It actually is the best guarantee to not let perfume last. Spray, wait for it to dry and put on your outfit.
Do not over do. One spritz per pulse point is enough. The purpose is to smell your best, not to overwhelm. The concentration of the perfume is an important factor. Take in account the when use of lower concentrated Eau de Toilette or a highly concentrated Extrait de Parfum. Take this in consideration. Your senses will get used to a perfume, especially your favorite. You will eventually smell it less and less, which tempts you to apply more of it over time.
Spritz, do not mist. Target pulse points and spritz your perfume from a distance between 4 to 8 inches. Another way is to spray some perfume just in front of you and then walk through the mist of perfume. It distributes the fragrance evenly over your body. Glamorous! Although the perfume will also land on skin that doesn't hold scent very long.
Comb it in your hair. Hair holds a fragrance longer than skin because it's porous. It is best to be careful, perfumes contain alcohol which dehydrate somewhat, which can damage your hair. Alcohol free perfume oils can safely be applied to hair. The best method is to spritz your brush and gently comb it into your hair.
Perfume stays longer on textile than on your skin. But as said, perfume can stain, especially concentrated perfumes with a darker color. If you still want spraying some on your clothes, a scarf is a good idea. It is also better to use it on natural fabrics and not synthetics.

Your perfume will smell a little different on clothes than on your skin. Everyone has a specific basic scent, depending on factors as lifestyle, eating pattern, skin type, etc. Your perfume will mingle with your natural body odour, creating your unique scent. Perfume on your clothes doesn't have that chemistry. It will smell like the fragrance in the bottle.
Change your perfume regularly. It's not a marketing trick, let me explain. All senses, also your sense of smell have a memory. Our brain will automatically start to 'mute' aromas to not overstimulate us. Think of this analogy. You enter home and you immediately smell the flowers your loved one brought you. After a while you need to leave the room and re-enter to smell them again. Rotate your perfumes, it will activate your sense of smell and you will enjoy them all more.
3.3 The best floral perfumes that last long
Just applying the longest lasting ingredients will not make an appealing perfume. The best floral perfumes that last long are:
Let the natural fragrance touch your skin. This extraordinary silky fragrance with lots of the damask taif rose at its centre and peach, apricot, zest and a velvety base of white musk. All notes that accentuate the best of the rose essence for many hours. This traditionally made high end perfume comes with its basic note, a Taif Rose hydrated to last 4 months.
A long lasting floral fragrance. This fragrance is built around the idea of a tulip, a delicate aroma Its top notes of freesia, cyclamen and rhubarb introduce the deeper scent of pink tulip and deeper green notes. The feminine scent is light and fresh, but lasts and lasts.
A long lasting floral fragrance : Developed for Tom ford by one of the largest fragrance and flavor companies Firmenich. Notes of coffee are dominate in this perfume, with additional accords of jasmine, vanilla, orange blossom, patchouli and cedar.
A sophisticated long lasting perfume for women created by freelance perfumer Fabian Pellegrin. Top notes of pear and orange with middle notes of orange blossom, ylang-ylang and iris. Its base notes are vanilla, sandalwood and amber, making it linger and linger and ..
4. What are the strongest perfumes?
The strongest perfumes are mostly, but not necessarily, the longest lasting perfumes. Again, some ingredients are more powerful, others longer lasting.
Individual evaporation rates of the components differ and a stable scent until the last hour of use is most desirable. Therefore the most powerful perfume considered by experts is quite unanimously Bvlgari – The Rebellious, which was discontinued due to poor sales.
Here is a video in which the popular Instagram perfume vlogger Demi Rawling asked her followers what their top 10 strongest fragrances are.
5. What are natural fragrances?
If you made it until here. Thank you! and congrats, you are as much a fragrance fan as me.
5.1 What is the difference between fragrance and natural fragrance?
Natural fragrances are made up of components of aromatic materials from natural sources. Synthetic fragrances mostly replicate the scent of natural fragrances and are a combination of chemical aromatic raw materials. Sometimes synthetic raw compounds do not even imitate nature but are completely man made.
Perfumes can contain a mix of both, natural and synthetic raw materials, or be 100% synthetic.100% natural fragrances are composed of natural raw materials only. I have to add that synthetic fragrances can be produced without harming nature or the environment.
5.1.1 Are there benefits in the use of synthetic fragrance?
A significant part of synthetic raw materials in the fragrance industry are developed with biotechnology and are indeed close to nature. Totally new aromatic molecules are created in the lab and cannot be extracted from natural flowers and fruits.
First let me bust a myth. Synthetic fragrance providers allege synthetically built perfumes last longer. That argument does not make much sense. Perfumes are for 70+ % made up of alcohols, sterilizing all natural elements so they last.
You can easily keep your natural fragrance for years on your dressing table. I personally love displaying my bottles. Although I have to say that all fragrances, natural and synthetic, remain more stable when stored in the dark.
The fragrance industry and big brands use synthetic raw materials to compose their perfumes for two practical reasons.
Price: Natural raw materials are more expensive than synthetics. Natural ingredients need to be grown and produced in a controlled manner and require an even more thorough quality control and refining process. Natural ingredients are 5 times , and some rare ingredients even up to 200 times more expensive in comparison to synthetic ingredients.
Availability: A field of fragrance flowers can only produce so many flowers and thus fragrance oil. A synthetic aroma factory can produce limitless amounts. It is therefore that big brands use almost exclusively synthetics in their production process.
Natural Fragrance can only produce limited editions. We have only so many fields of fragrance.
5.1.2 What are the benefits of natural fragrance?
Natural Fragrance ingredients and products are all grown and produced with sustainable methods and in limited editions. Blooms need time to grow and there are no shortcuts in nature.
To extract 1 lbs of essential oils to be used as a natural fragrance ingredient, well over 1000´s of roses or other blooms are needed. Forcing nature with tricks and fertilizers will lead to speedy growth but it will reduce the amount of oils per bloom. More blooms are needed for the same oil, so nothing is gained.
Rigorous supervision, distilling and testing of natural grown materials guarantees a healthy product bringing you closer to nature. Since we are the industries lead producer of taif rose we can compose our high end perfumes at a price of well known luxury fragrance brands.
5.2 What is the healthiest perfume to use?
Although we, and more and more consumers, prefer the natural fragrances we will not make the statement synthetic are less healthy. All professional manufacturers and well known brands produce with industry and governmental health and safety standards.
The problem arises with counterfeits. Imitators who want to make a quick buck capitalizing on carefully building quality products and brands, with their cheaply produced knock offs. There is honestly something to say for a cheaply but crafty produced counterfeit handbag or sneaker. You do not spray and wear that on your skin!
Counterfeit spray-on perfumes is another thing. Therefore Natural Fragrance combats counterfeit with adding a unique serial number to all our products. You can download the Transparency app and authenticate your purchase upon arrival.
5.3 How is natural rose perfume made?
Rose perfume is almost never just rose, but are composed of multiple scents. As said earlier in this blog, there are a lot of different rose varieties and scents. Although mostly two varieties are used due to their high yield of scent oils.
Rose is a base note with sometimes up to 130 other scent ingredients composed around it. The amazing thing about rose is that adding middle and top notes brings out other highlights of this versatile scent. It adapts. Its versatility also makes that a rose perfume adapts to your skin. Your natural body odour brings out highlights of the rose scent.
Exactly why rose, the queen of flowers, is the basic perfume note for over a thousand years.
Beginning with rose on its palette, a perfumer composes a perfume with multiple scents. One or two basic notes, adding middle notes and refining the perfume with top notes. In this design process the perfume can take sharp and surprising turns for the best and worst with adding just one little quantity of a note.
Top perfumers, named ´nose´, experiment during the creative process relying on their experience. The largest fragrance companies started using AI in their design process. Mostly for fragrances used in consumer products as bath oils, shampoos, creams and also in fabric softeners and air fresheners. AI is so far not used in perfume making.
After the creative process the manufacturing starts. Which is for synthetics a simple process of mixing the ingredients according to the perfumers recipe, just in larger quantities. A matter of ordering enough raw synthetic materials from the supplier.
Natural fragrances take much more time and money. Planting fields of multiple fragrance flowers, growing cycles, harvesting, pressing, boiling and refining. All according to strict standards and controls. Nature will keep surprising you and there is no guaranteed amount of end product. Henceforth natural fragrances always come in limited editions.
After testing, a large component of brand perfumes is marketing the perfume. Those celebrities, models and prime commercials do not come cheap. All to woo you with your favorite actress strolling a field of flowers… a feeling that you will project on yourself.
6. What is the most expensive perfume?
I am glad you asked! No, seriously. The most expensive perfume is the first bottle. A perfumer can take years to create a new perfume. The recipe, the first bottle, can be priceless.
There is a niche market for custom made perfumes for the rich and famous. A recipe per client. You can imagine earning back the cost of a recipe on just a few bottles in the lifetime of just one client is sending the price of custom made perfumes through the roof.
Next to quantity there is quality. Certain raw materials, especially natural fragrances, are insanely expensive.
Our upcoming blog will be on the secluded world of custom made and expensive brand perfumes. Answering that question; what is the most expensive perfume in the world?
Meanwhile you can check out the Natural Fragrance Black perfume and the amazing story of how this expensive designer perfume came to be.
I hope I could be of help making your choice of perfume. Leave a comment below if this was helpful
Fragrance, the language of love